Why is BlendWorks Different
Imagine you're a small business owner, a golf store owner. You are a PRO. You live, breathe, and eat golf (well, maybe not eat, but you catch my drift). You're in the thick of the busy season in summer, and you have amazing promotions, but there is no response. You're asking your customers as they come in and out to tell their friends, and they smile and nod. You think, "man, I wish I had time to market this! It's a gold mine!"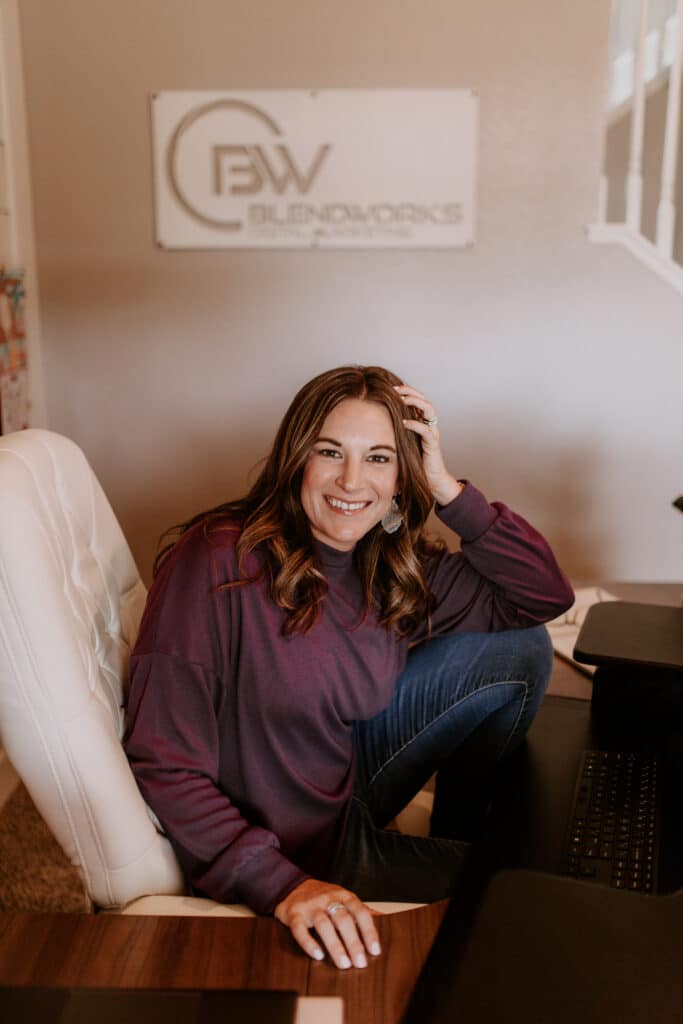 Unfortunately, that's where most small businesses are at. They are really good at what they do but don't have much extra time to do the marketing. Enter BlendWorks Digital Marketing. We were born out of the same need to have the feel of an in-house marketing person without hiring or taking office space. We specialize in getting businesses to the top of a Google search in their respective category because, let's be honest, nobody will click on you if you're not in the top 5 spots. When was the last time you Googled "salons near me" and looked past the first five links? Have you ever even gone to the second page? I know I certainly haven't. The fun part is that we do this organically, so you're not spending a fortune through paid ads; does it take time? Absolutely, but it's worth it!


I go through each client's portfolio monthly to pull analytics, digest numbers, and create a comprehensive report. I will go through what worked well, what needs some adjustments, and what we can do to better. In other words, I'm super involved in the day-to-day marketing plan. I never run automations either, which is great because you have someone on your team monitoring real-time performance; you have that personal touch! I genuinely care about each one of my clients and how their business is doing, and if they aren't getting ahead, neither am I. It's never been about financial gain for me, I want to see that vision come to life just as badly as you do.


Back to our business owner with the golf store. Business is still booming, and someone
across the country hears about his state-of-the-art 9 Iron with new patented technology;
guaranteed to make your ball reach a 38-yard loft. Instead of coming into the store which would force him to hop on an airplane, he asks, "hey, shoot me your website so I can pick one up," and the business owners blackout. He has no website! Don't let this be you; you absolutely need a website, and please don't waste your time with Wix or Square Space; build on WordPress. If you want to be found on Google, use this platform. I can help you build this out, and we'll start simple: have clear content, a call to action throughout the entire site, and photos to show off your product, your personality, and your brand. Everyone wants to feel like they know you, it creates that feeling of belonging, and we want to keep those people in mind when building this
site.


Now that we have your website up and running, and our guy purchases his 9-Iron and tells us how much it's improved his golf game, we ask him for a review! This is super, mega, incredibly important! Ask for reviews all the time. Pull the link from Google and add it to your email signature, put them all over your social media, and after a meeting, shake their hand and ask them for a review. I have software that can send out review requests via text or email, but please ask for the review. How will anyone else know how great that club is if they don't hear about it elsewhere? Most importantly, thank your customer for leaving it; after all, that's your best form of sales. In today's world, it's no longer "if you build it, they will come" (dang, I should have used a baseball analogy here); it's not like that anymore in business. If you build a website, they won't automatically come to it. Let me help you; you'll have a person on your team who cares and will always pay attention and be there for you. I'm not so far on my high horse that I won't admit if things need to be done differently; I know how to pivot and make it work for you. I'm the expert, and I will get you where you want.