Need a Website? No Problem!
When I started BlendWorks, it wasn't actually BlendWorks; it was a simple "I'm going to help my husband save some money" task. He needed an online presence and a place where he could direct people for more information. Fortunately for him, I was the best available resource (and I was so happy to help!). To his surprise (and mine), he was bringing in a ton of traffic after the site was built, and people were complimenting him, saying they found him on Google! The fun part about what I did with my husband's online presence was that I got to showcase his personality and help current and future clients connect with him as a person better. Soon after we started up his social media channels, I learned much about Google My Business. He even still had comments about how great those looked, how easy they were to navigate, and 'who in the heck did you use to set up your online presence questions. My business was officially starting to take off very organically, and after a couple of clients were happy, my husband looked at me and said, "wow, you're really good at this, you should build a business!" BlendWorks was born! Now, is everything easy-peasy-lemon-squeezy? No. It's a big learning curve starting your own business; I always think of it like a big puzzle where everything must fit together perfectly; On the flip side, it's an 'if we optimize it correctly and get to know our clients' kind of business. Let's dive in.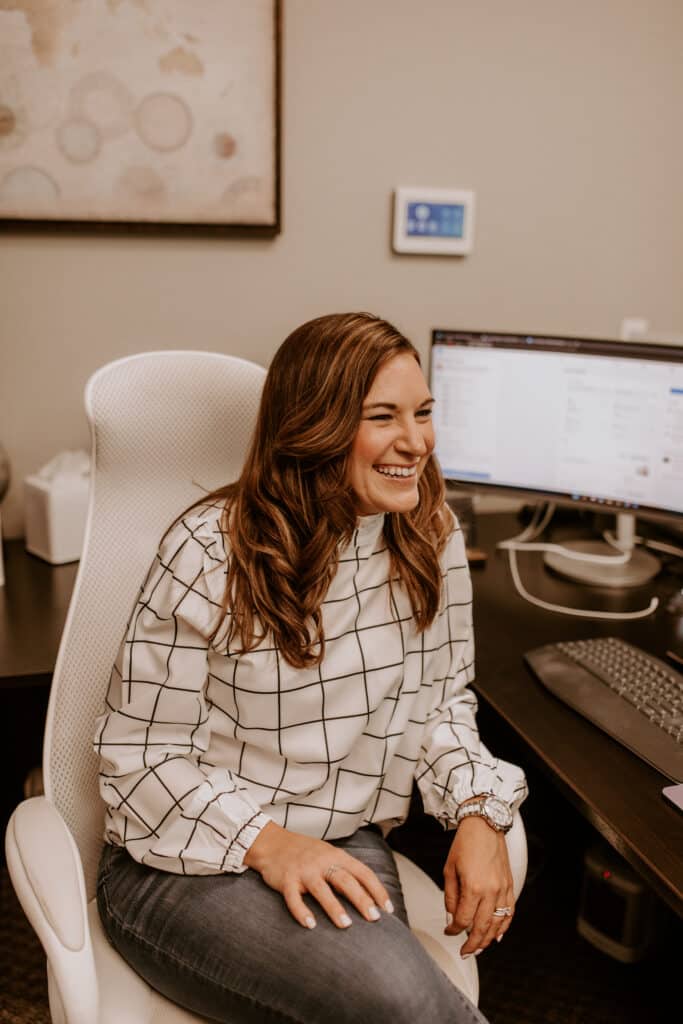 "When a client calls and says, "I need a website," I want to be sure there's a clear CTA or Call To Action, many buttons that are easily accessible from any page, appointment schedulers if necessary, and social media links on each page. A great question I ask is, 'What do you want your visitor to do once they're on your site?' because not every client always knows the answer. Do you want them to make an appointment? Do you want them to make a purchase? Once we establish the why, we can start with the content and branding, which in my opinion, is the most crucial piece. Your website must match your branding; colors, fonts, and logo…it must be recognizable, visually appealing, functional, and easy! Building a website is a process! But I feel like the more I do it, the more I get into a groove and fit all those puzzle pieces together seamlessly. I'll always start by sitting down with my client and having a conversation. I want to get a feel for the brand and know their ideal client, so I can target the new site to them. I want to physically go to their business and get a feel for who they are and what they represent! I'll have clients send me websites they like or dislike, so I know their style and passions. After this, the fun begins; we build content with custom photography featuring the actual business owners, clients, products, services, and all the fun details. If the client already has their own photos that are clean and crisp, excellent! We will use those and start building, but if not, we schedule branding shoots that are fun, easy, and 100% worth it! We're still building bios, company history, and details of the services they offer as well – I want their business to shine online. As part of my package, I also optimize your website, which is vital for traffic. Whether you choose a different company or me, please review your contract thoroughly and ensure it includes optimization (otherwise, it's pointless to have a website). As we are building the site, our clients will get three drafts before finalization; this is where we are testing buttons and links, double-checking brand colors and feel, and ensuring all photos represent the client in a meaningful way. Once they are happy and I finish optimizing the site with colors, headers, and fonts, we launch the site! We're live!
Let's talk about payment; I have my clients pay 50% upfront so that I can get started on the work, content building, photography, branding, and everything in between; then, after they see the first draft of the site, they'll pay 25% of what's left as I make edits. Finally, they will pay the remaining 25% upon project completion. I love this way of payment because as a consumer, I'd never want to pay for something that wasn't already done (think about paying your washing machine repair guy before he fixes the actual problem, no thanks!). It's quite common for people to build their own website as well! Here are some tips I want to share just in case that is you! First, build on WordPress; just do it. You won't get your money's worth on any other platform, and make sure there's a clear call to action. Always make sure your branding is on point, optimized for keywords, optimal speed, and loading. Get backlinks from other sites, gather testimonials, and link your social media profiles. Make sure your photos are clear and crisp because poor imagery is the quickest way someone will leave your site. Make sure it's optimized for desktop and mobile. Lastly, please work with a web designer who designs and OPTIMIZES your site for SEO. If they are not watching and monitoring analytics, you will never know where to pivot!
I'd love to help your business succeed, and I'm always here if you have questions. Happy website building!